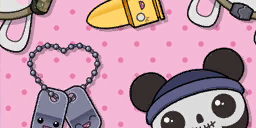 Kawaii Camouflage
The Kawaii Camouflage is a DLC weapon Camouflage skin available for Call of Duty: Black Ops II and featured in Call Of Duty Online. In Black Ops II, It is available for anyone who buys the Kawaii Pack for 160 MS Points or $1.99 on PSN/PC. In Call Of Duty Online, it can be purchased from the shop for 1880 credits as of the March 23rd, 2015 update.
Kawaii camouflage covers the body of the weapon in a pink overlay with various different Japanese pop art-styled images in a military theme befitting the game, such as a rabbit wearing a helmet and an anthropomorphic fragmentation grenade. Other areas of the weapon, such as the handguard, will be covered in a beige overlay with brown, pink and white smudges, similar to a cow's hide.
Kawaii is the Japanese word for cute.
Ad blocker interference detected!
Wikia is a free-to-use site that makes money from advertising. We have a modified experience for viewers using ad blockers

Wikia is not accessible if you've made further modifications. Remove the custom ad blocker rule(s) and the page will load as expected.